Top Corporate Catering in Tampa, Palm Harbor, + The Entire Bay Area.
Sandwich platters? Check.
Boxed lunches? We gotcha.
Heck, we even do breakfast catering! For more than 30 years, we've brought you top quality catering in Tampa and the entire Bay Area, minus the stress.
Whatever the occasion, Lucky Dill's Palm Harbor catering operation serves the entire Tampa Bay Area and is here for your every need, big or small. From baby shower catering to corporate catering and everything in between, we've got you covered. You can even find our Bigger-Than-The-Brooklyn-Bridge boxed lunches in the locker rooms of your favorite national sports franchise!
Not a lot of restaurants that cater actually back it up with top quality food, stress-free ordering, and affordable pricing, but that's our promise to you. We guarantee nothing but the best catering in Tampa + the Bay Area – PERIOD.
Our signature NYC-Style catering services turn every function, event, or random weekday at the office into a skyscraper of a day! Let our catering specialists find the best custom catering menu for you.
Feeling like your local Palm Harbor catering options are a bit limited?
We feel your pain, and we've got the solution.
Lucky Dill sandwich platters cure all ails, and we've got party platters on deck too for your next Super Bowl party or graduation. Corporate catering is our specialty and we can serve offices large and small. Be the coolest guy or gal in the office and make sure your team chows down on delicious deli cuisine from one of the top corporate caterers Tampa and the Bay Area have to offer. They'll thank you later.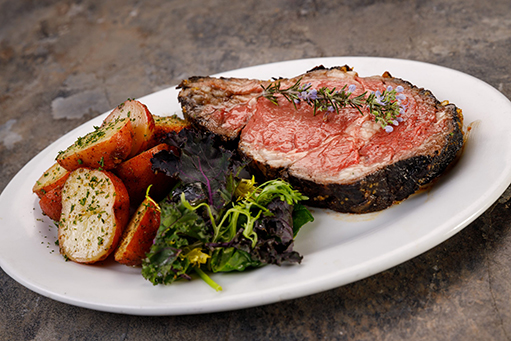 Interested in booking Lucky Dill catering services?
Want to request our catering menu?
Just looking to bounce around catering menu ideas for your next occasion?
How We Roll
Other catering companies and restaurants that cater often seem to get these wrong, but at Lucky Dill we're always on it – that's just how we roll!

On-Time Setup
With our Lucky Van and top team of catering services specialists, we're always there on time and set up, so your guests can get straight to enjoying. No need to stress!

Friendly, Professional Staff
Everyone you encounter at The Dill will always exemplify the utmost professionalism and friendliness. From your catering specialist to the on-site staff, expect (and get) the best!

Fresh, Delicious Catering
Everything will taste just as good as if you were in our Palm Harbor restaurant, that's our guarantee. When you book Lucky Dill catering services, you know you're getting top-notch food.
Hiring Lucky Dill Catering Services = Always a Major Win.
Serving parties of 10 to 10,000 with options to fit every budget, our Palm Harbor catering operation and mobile Lucky Van have your every need covered! If you're looking for catering in Tampa – whether that's Pinellas, Pasco, Hillsborough, or Hernando County – look no further, we've got your back. Here are just a few of the delectable catering services we offer:

Corporate Catering of Any Size…We Mean It.
Corporate catering is our game. Stressed about what to feed the troops? Bored with yet another pizza Friday? It's time to be the office hero. For 30 years, we've been one of the top corporate caterers Tampa and the Bay Area have to offer. We serve up everything from sandwich platters to trays of our Little Italy pastas to keep your team full and ready to close that next deal. That's why we're one of the top Tampa catering options, year in and year out. To find out more about our corporate catering options, complete this form.

Breakfast Catering (New!)
Let us bring you breakfast in bed (or wherever you want it!) Our breakfast catering is second-to-none and can be provided for any event or need you might have. Fresh, delicious, bright, and early. From plate-sized omelettes to signature French toast and fruit platters, we've got your morning munches covered. Get in touch with us and complete our client request form here find out what breakfast catering options are available for you!

Boxed Lunches, Sandwich Platters, + Party Platters
Brooklyn Bridge-sized sandwiches are our specialty and no matter the size of the function, we've got sandwich platters to feed your troops. Need boxed lunches for construction sites, film shoots, or any other project that demands that you keep a lot of people happy and full – without breaking the bank? Say no more, we've got you covered. Lastly, no Super Bowl or major event is complete without one of our party platters.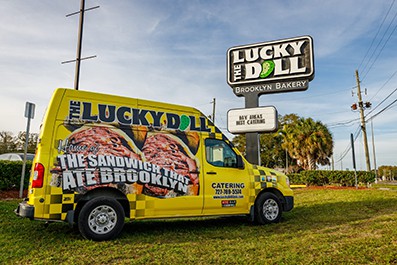 We've even provided corporate catering services for major sports teams like
The Philadelphia Phillies
and
The Clearwater Threshers
, and major companies like
Nationwide Title Clearing
,
Florida Cancer Specialists
, and
ADT Security Services
!
Need catering in Tampa and the Bay Area, but don't see your occasion listed above?
Don't worry.
We also excel at:

Wedding Catering
Bring on your big day with the Dill! We can do platters or staffed wedding events, and our dessert platters are a hit at every wedding. Uncle Charlie will definitely dance the cha-cha with one of our cannolis in hand!

Christenings and Bar Mitzvah Catering
It only happens once, so you better get this one right! That's where the Lucky Dill Deli comes in. There's no room for error where your kids are concerned, and we've got options that'll please even the most demanding in-laws.

Baby Shower Caterings
Baby showers are always tough to plan, so leave the food to us! From party platters to sandwich platters to full service catering, let us handle the details while you celebrate what's important – the baby!
Still don't see what you're looking for? Just complete this form and let us know what kind of event you've got on tap, and we'll help you out with some great catering menu ideas!
Got Catering Questions?
We've Got Answers!
What areas do Lucky Dill catering services reach?
Right now we do catering in Clearwater, Palm Harbor, and Tarpon Springs; along with catering in Tampa and the entire Tampa Bay Area. That includes catering in Pinellas County, catering in Pasco County, catering in Hillsborough County, and catering in Hernando County. If you're not sure if your area is eligible for Lucky Dill catering, just give us a shout at [email protected] and we'll let you know if our Palm Harbor catering operation can serve your area! 🙂
Do you have options at different budget levels?
I'm interested in boxed lunches or daily corporate catering options, is that something you do?
Absolutely! We can handle any size corporate catering and our boxed lunches will leave your team smiling and full, at very reasonable prices. Get in touch with us via the form
here
and indicate that you're interested in boxed lunches or corporate catering, and we'll get back to you with a plan of action.
5 Reasons to Schedule Your Next Tampa Catering With The Lucky Dill Deli
1
Same Restaurant Quality at Your Home or Business
Most restaurants that cater just can't replicate that restaurant experience at your house. We make sure that everything is just as DILLicious as if you were sitting at our famed Palm Harbor restaurant!
2
Our Catering Services Team is the Most Professional in the Biz
Just complete our catering services request form and we'll get right back to you! We're second to none when it comes to seamlessly executed, delicious catering in Tampa, Palm Harbor, and the entire Bay Area.
3
Awesome Variety of Catering Menu Ideas + Options
You want it? We got it! We'll work with you to create a customized catering plan for your home or business that'll work with every set of taste buds. Let us make your home team happy!
4
Wedding Catering, Lucky Dill Style
If you're looking for a high quality, affordable wedding catering, we've got you covered with dessert platters, sandwich platters, and anything else you could ask for to please the in-laws and make your special day even more special.
5
We Make Corporate Catering a Breeze
If you're the decision maker around the office, the last thing you want to worry about is what everyone's eating for lunch. We make that easy for you with delicious boxed lunches, sumptuous sandwich platters, and more to keep your team happy and well-fed with minimal stress for you.
Join us at the Original Lucky Dill in Palm Harbor, or give us a ring if you have questions!
The Lucky Dill Deli
33180 US Highway 19 N
Palm Harbor, FL 34684
Our Hours
Mon - Sun | 8am - 9pm